General
Our Ratings: 3 stars
Board Basis: Breakfast Included, Buffet-style breakfast
Location: Fatih / Istanbul, Turkey
Closest Airports: Istanbul (IST) Ataturk Airport (30 minutes distance) and Sabiha Gokcen (SAW) Airport (55 minutes distance).
An Outline
Offering air-conditioned rooms and free Wi-Fi, Tugra hotel is only 2.8 km from the historical Sultanahmet district which has many historical sites include Blue Mosque, Hagia Sophia and Topkapi Palace.The stylish rooms of Tugra feature a minibar and LCD TV with satellite channels. All rooms have a balcony and a private bathroom with a shower, hairdryer and a toilet.
Meal Board:
Prices are breakfast included. Lunch and dinner are served at extra charges.
Location:
Located at 15 minutes drive from the Sultanahmet district.
Closest Landmarks:
Topkapi Palace, Blue Mosque, St.Sophia, Aksaray Metro Stations, Basilica Cistern, Chora Church, Grand Bazaar, Fatih Mosque.
Travel and Distance:
30 minutes distance from Istanbul Ataturk airport.
Amenities
In the hotel…
Restaurant
Wi-Fi
Parking
Balcony
Air conditioning
Luggage storage
Meeting/banquet facilities
Babysitting/Child Services
CCTV Security System.
Car hire.
In the room…
Wi-Fi
24 hour rooms service
Satellite TV
Slippers
Wake Up Service
Direct line phone
Air conditioning
Minibar.
Halal Amenities:
The hotel has fully non-alcoholic Halal Atmosphere with halal food and beverage outlets within the hotel premises.
Cancellation / Prepayment
If cancelled or modified within 3 days before check-in date, no fee will be charged.
If cancelled or modified after 3 days, full price will be charged.
Facilities
Air Conditioning
Baby sitting (on request)
Business Centre
Car hire
Car Parking
CCTV Security System
Currency exchange
Dry Cleaning
Ironing
Laundry
Meeting & banquet facilities
Wakeup Call Service
Wi-Fi
We are sorry, there are no reviews yet for this accommodation.
Istanbul
Overview
Including Europe on one end and Asia on the other, Istanbul not only treasures in it the valuables that date back to the historic times but also abode the wonders that are a reflection of modern-day creativity and luxurious affluence.
During the voyage of exploration, one may encounter historic testaments and relics having an account that traces back to thousands of years. Whether you roam around to discover every nook of Istanbul or traverse through the neighboring districts, you will grasp hold of an array of natural and ancient spectacles spread throughout.
This impeccable city, connecting two continents, where one could come upon people from diverse cultures integrating in a harmonic tone, will stimulate utterly surprising feelings in you.
Sports & Adventure
Istanbul Bike Tour
Biking on Istanbul streets is one of the most exciting ways to explore Istanbul and it would be nothing like an ordinary bike ride. Hire a guide to make the most out of this experience. Heybeliada, being a car-free island is a great place to ride a bike.You may start off "Around the Golden Horn" track, on the north end and not very distant from the Galata tower. Cycle your way across the bridge and explore the off-road terrain of Istanbul. Stop to take plenty of photos or satisfy your curiosity by asking questions from your guide.
Cappadocia Hot Air Balloon Ride
It is absolutely an amazing thing to experience no matter how early you may have to get up for this. The panorama of the entire Goreme is dreamlike from above while you are riding a hot air balloon.Just as the balloon takes off, it's bewildering to see the spectacular landscape, along with many other balloons surrounding yours. It would softly drift over pigeonholes, fairy chimneys and the inimitable rock formations.The entire experience would turn out to be implausible and mind-blowing!! Do not to forget to make a video if you may, to share with your friends and family back home.
Things to do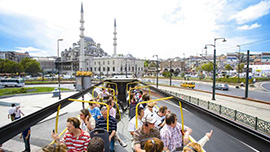 Explore the Islands
Start your day with a Turkish breakfast, which has earned its fame for the variety it presents. You may spend a day to explore the islands of Istanbul for a rendezvous in an exciting new environment. Adore the sea and the sun or fancy to ride a bike to reinvent the city with your eyes.
City Tour
Otherwise, you may choose to dedicate your day to tour around the city and make your stay worth the while. Initiating your discovery tour at the ancient peninsula, you can swing several shrines belonging to the civilizations that had established here.Nuru Osmaniye, the Grand Bazaar, Çemberlitas, the Blue Mosque, Basilica Cistern, Archaeological Museum and Hagia Sophia are reckoned among the main sites you may specifically appreciate touring.Later, you can traverse the Golden Horn Bridge and relish a coffee break at Karaköy before you move to Tünel and head up the Galata Tower to observe the impressive vista of Istanbul.
Relish the Turkish Cuisine
Ultimately, you can praise the scrumptious Turkish cuisine at any of the diners at Beyoğlu and finally pause at the coast of Arnavutkoy to revel in the grandeur and charm of Istanbul as the night falls.Pierre Loti, on the other side, is one of the most soothing and serene spots in Istanbul. It tempts the vacationers to sip some Turkish Tea and appreciate the view there.
Shopping in Istanbul
Eminonu is a fitting place to acquire gifts and souvenirs to let you relive the unforgettable time you had experiencing Istanbul. The districts nearby, with huge shopping centers offer greater and finer shopping trips you may desire to experience.
Culture and History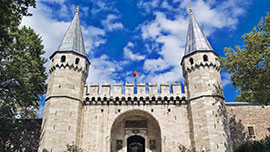 This deep-seated city, with an account trailing back to 300 thousand years before, composes a collage of numerous societies and philosophies mingled. It has been the center of three tremendous empires, the Byzantine, Roman, and Ottoman empires, and for over 1600 years, 120 sultans and emperors governed the world from here. There is no city in the world other than this one that could declare such a prominence.Let us draw inspiration from the historic magnificence of Istanbul.
Topkapı Palace
Topkapı is the course of more vibrant stories than most of the world's heritages combined. Passionate sultans, aspiring courtiers, stunning concubines and calculating eunuchs dwelled and worked here from 15th to 19th century, while it used to be the court of the Ottoman empire. Seeing the palace's rich pavilions, reclining Harem and jewel-filled Treasury, overlays an appealing peep into their lives.
The Blue Mosque
This is a stunning structure and regardless of aggregation of people from all across the world, it has a thought-provoking peace about it. Take time to delve in the ambiance of angular curves created with the tiles, lanterns hanging low and the sophisticated enhancing work underneath the domes. Every inch of this place declares capacities of the artistry of the workers who created it.
Hagia Sofya
Hagia Sophia is an amazing architectural wonder and a significant testament both for Ottoman and Byzantine Empires. Earlier a church, then a mosque, and a museum today, Hagia Sophia has always been the valuable in every time.
Museum of Turkish & Islamic Arts
On the western verge of the Hippodrome, this Ottoman palace was fostered in 1524 for Ibrahim Pasa. During the time of research, it underwent an extensive revamp. This museum holds a superlative compilation of artifacts that include wonderful instances of calligraphy and one of the world's most remarkable selections of antique carpets.The historic marvels in Istanbul never seize to amaze the vacationer's eye. Layers of history would unfold in your imagination once you step foot in the magical city.
---
Read more